At Double A Trailers, we believe that a great trailer is more than just a means of transportation — it's a reliable partner that supports your business, adventures, and lifestyle. As a family-owned and operated trailer manufacturer, we have been proudly serving our customers since 1998, providing premium quality-built trailers that exceed expectations.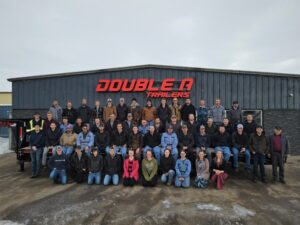 It all started in Two Hills, Alberta, where our founders, the Martens family, set out on a mission to create trailers that would exceed customer expectations in terms of both durability and functionality. With a passion for craftsmanship and a deep understanding of the needs of trailer owners, they embarked on a journey that would shape the future of our company.
From the outset, we recognized the importance of using high-quality materials and employing skilled craftsmen and women to ensure the longevity and reliability of our trailers. Our unwavering commitment to these principles quickly earned us a reputation for producing trailers that could withstand the toughest of tasks and endure the test of time.
As our customer base grew and their needs diversified, we recently expanded our operations to Vegreville, Alberta. This strategic move allowed us to better serve our customers and further improve our manufacturing capabilities. We invested in state-of-the-art facilities and advanced technologies, enabling us to innovate and create trailers that meet the ever-evolving demands of various industries.
What sets us apart is not only our dedication to crafting top-tier trailers but also our commitment to exceptional customer service. We believe in building lasting relationships with our customers, understanding their unique requirements, and providing them with tailored solutions. Whether you're a contractor in need of a rugged equipment trailer or an outdoor enthusiast seeking a reliable utility trailer, we have the perfect fit for you.
At Double A Trailers, we stand by the values that have guided us from day one: quality, integrity, and innovation. Our team of skilled professionals works tirelessly to ensure that every trailer bearing our name meets the highest standards of excellence. We take pride in the fact that our trailers are built to withstand the toughest challenges and exceed the expectations of our valued customers.
– The Double A Trailers Family
DOUBLE A TRAILERS ANNOUNCES LARGE OPERATION EXPANSION
Two Hills, AB – Double A Trailers, a leading Canadian manufacturer of high-quality trailers, has announced they are expanding operations into Vegreville, Alberta.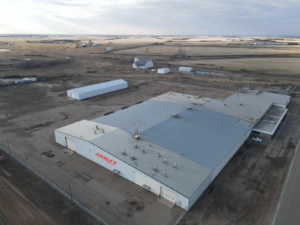 "Over the last several years our company has experienced continuous growth and, as a result, we're incredibly excited to expand our operations into Vegreville. This expansion will allow Double A Trailers to not only better manage growing demand but position ourselves for future company growth."
John Martens, General Manager, Double A Trailers
Double A Trailers – a family-owned and operated business – has been serving western Canada and the northern U.S. since 1998 and credits the town of Two Hills, Alberta for providing an environment that allowed the business to thrive.The company notes that while the expansion will see a portion of its operations shift to Vegreville, they are committed to a continued presence in the community that helped make the expansion possible.
"We want to extend a sincere thank you to the Two Hills community for welcoming us into their town and supporting our business for the past several years. We're proud to be a continuing part of this community and look forward to maintaining our relationship with its residents and fellow businesses."
Abe Martens, Owner, Double A Trailers
The Double A Trailers Vegreville expansion will begin in the coming weeks with operations expected to be fully on-line by the Spring of 2024. The company says it's looking forward to working with the people of Vegreville, adding that the community shares its values of hard work, integrity, and dedication to excellence. Double A Trailers is committed to being a valued member of the Vegreville community while contributing to the town's future growth and prosperity.
Products built to handle rugged Canadian climate

Focus on key items, product build, wiring and finish

Soldered connections with -60º wiring

Our units are sandblasted before applying PPG Urethane Paint

Many options available to customize units