Centrally located in Two Hills, Alberta, Double A Trailers has been providing transportation services to much of Alberta since 1999. Founded on hard work and dedication, we have grown to over 40 employees, boasting 30,000 square feet of manufacturing space.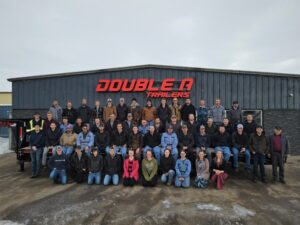 Organization is key to our success.  From orders received to raw material purchased to the production of parts, our assembly line style of manufacturing keeps operations running with minimum disruptions.
Being centrally located puts us 1.5 to 2hrs away from the majority of our markets and allows us to source supplies from Edmonton within one business day. Raw material is sourced, cut, fabricated, then painted and detailed according to customer specs. We transport products to locations across Canada as well as into the United States.
Our history in the transportation and oil & gas industry has given us the experience necessary to handle complicated designs. Though we have the ability to tackle complex projects in a short period of time, this doesn't keep us from researching more effective and efficient ways of fabricating our units. Our dedicated Research & Development team prides itself in being innovative and ahead of the game!
Whether you already have an exact idea of what you want or if you're just beginning to mull over your options, look up one of our dealers and they'll help you through the whole process!
Products built to handle rugged Canadian climate

Focus on key items, product build, wiring and finish

Soldered connections with -60º wiring

Our units are sandblasted before applying PPG Urethane Paint

Many options available to customize units